PARC: A Regional Renewal Program
Twenty-three (23) professed Young Brothers from the Pacific Asia Regional Conference (PARC) experienced an online and in-person renewal program last July 18-27 and August 1-13, 2022, respectively. The subsequent week-long residential experience participated in by 18 of the 23 participants was held at the De La Salle University-Dasmariñas (DLSU-D) Retreat and Conference Center in the Philippines. The formation and accompaniment program was offered to Young Brothers preparing for or in the perpetual profession between January 2017 and 2023. The retreat-style conference provided opportunities for reflection on vows, sharing experiences in the ministry, workshops, brotherly fraternity, accompaniment, and ample time to rest, relax and take full advantage of the prayer moments.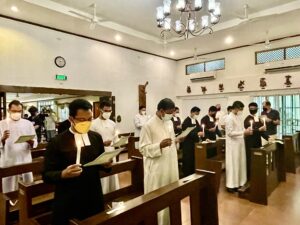 Despite being challenged by the travel restrictions, health quarantines, and COVID-19 preventive measures, the residential renewal program continued with Brothers from Hong Kong, India, Japan, Pakistan (via Zoom platform), the Philippines, Singapore, Sri Lanka, Thailand, and Vietnam. The reflective experience, primarily through the dialogue of experience, benefitted the participants in how they consider their ministries and view the vows now. For these Young Brothers, the reflection exercises enabled them to go deeper into the realities of living the vows, understanding its challenges, and most importantly, raising new questions to explore and help deal more pragmatically with the conflicts and nuances of living the religious vows. With the Institute's Secretariat for Formation and Secretariat for Association and Mission, speakers from Italy, Mexico, the Philippines, Australia, Malaysia, India, Spain, France, and Sri Lanka guided the delegates through the program with a renewed sense of purpose. The renewal program was capped with a meaningful Renewal of Vows Rite on the Feast Day of Saint Benilde (13th of August) within a eucharistic commemoration celebrated by the university's chaplain.