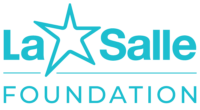 The Solidarity and Development Secretariat is the principal fund-raising and development group of the De La Salle Christian Brothers which assists the Lasallian mission by providing financial support, technical assistance, and capacity building to fragile sectors of the Institute in their growth towards self-sufficiency. The Secretariat strives to help fulfill the goals of the Institute as expressed in the aspirations of its 45th General Chapter.

Who we are
The Secretariat of Solidarity and Development is the principal development and fundraising department of the De La Salle Christian Brothers and provides capacity building, technical assistance, and financial support to Lasallian educational initiatives.
Through its legal instrument, the nonprofit organization La Salle Foundation (De La Salle Solidarietà Internazionale – ETS), it coordinates the network of Lasallian development organizations around the world.

What we do
Our goal is to allow each child to go to school, and all young men and women to be educated for their future. For this reason, we work every day to remove obstacles that prevent full access to the right to education.
Our mission is to offer quality education with particular attention to the empowerment of vulnerable groups, to promote the development of the communities in which we work. We support Lasallians engaged in the promotion of the rights of children and youth at risk of socio-educational exclusion, in 5 continents, through schools, learning centers, orphanages, youth facilities, social-health services and other programs which respond to specific needs, according to the local environment.
Where we work
In 2022, the Foundation distributed more than 7 milion euros to support 62 projects in 20 countries, reaching more than 70,000 people.
Contact Us
Social networks La Salle Foundation
Address: De La Salle Solidarietà Internazionale – ETS
Via Aurelia, 476 – 00165 Roma, Italia
Bank account: Banca Popolare di Sondrio
SWIFT: POSOIT22
IBAN Account in €: T52 R056 9603 2070 00007241X70
IBAN Account in $:  IT10 M056 9603 207V ARUS 0007241
Your donations support our work around the world
The ways to make a donation:
Send a cheque:
To be paid to:
De La Salle Solidarietà Internazionale – ETS
Via Aurelia, 476 – 00165 Roma, Italia
Electronic transfer in Euros or Dollars:
Bank: Banca Popolare di Sondrio
Beneficiary: De La Salle Solidarietà Internazionale – ETS
IBAN Account in €: T52 R056 9603 2070 00007241X70
IBAN Account in $: IT10 M056 9603 207V ARUS 0007241
(Please indicate the reason of your donation)