On 9 June 2022, the Generalate of the Brothers of the Christian Schools inaugurated the first day entirely dedicated to children. Animation games, candyfloss, popcorn and a wonderful magic show entertained young and old for an entire morning. The children of the employees and collaborators of the Generalate enjoyed themselves together with their families and the Brothers, fulfilling a wish that the latter had long dreamed of achieving: to have so much vitality and joy inside the House and in the park to animate a structure that will increasingly think of being a place of meeting and sharing for so many new projects of festive welcome and inclusiveness.
Cheers to the big Lasallian family!

What fun chasing soap bubbles. The carefreeness of children also involves adults. We all become children again for a day!
Guaranteed fun on the inflatables. Happy children in the large park of the Generalate fill a pleasant summer day with their shouts and laughter.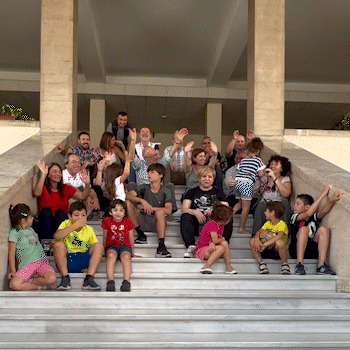 The large white staircase where once only the Superior General had access is now filled with Brothers, children and families celebrating. What a joy!

And then comes the rain ….
All wet and the game continues!

"It is from irony that freedom begins." (V. Hugo)
Brothers and employees teach us how!