Medellín, Colombia |La Salle Global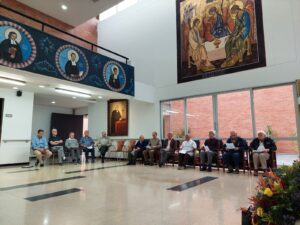 The Elderly Brothers, pillars of the Lasallian District of Norandino (Colombia, Ecuador and Venezuela), gathered in the city of Medellin, Colombia, between 31 August and 2 September 2022. There they shared an experience of encounter that stressed the greatness of those who have been forerunners in the evolution of Lasallian works in these three South American countries.
The gathering took place in an atmosphere of fraternity as a result of sharing from the wisdom and experience of each of the participants and accompanied by different Brothers and Lasallians from the District Leadership Team. There was also the opportunity to visit some significative places in the city of Medellín and its surroundings.
The Brothers also received video greetings from Brothers Armin Luistro, Superior General; Robert Schieler, Superior General (2014 – 2022) and Álvaro Rodríguez Echeverría, Superior General (2000 – 2014) as well as other greetings from former students.
The District Communications Service also prepared different communication materials to pay tribute to the life and ministry of these Brothers.
Information from the Communications Service of the Norandino Lasallian District.