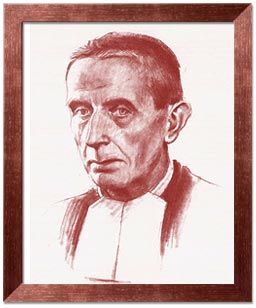 Brother Adolfo was born on 8th November 1894 in Cella, Spain.
He taught for 40 years at the Montemolín school in Zaragoza. Those who knew him remember him as a model of life, balance and serenity. He spent his life loving God and men, his brothers and sisters. His main concern was to form in the souls of his students the authentic Christian ideal of faithful followers of Christ.
He died in the odour of sanctity in Zaragoza on 14th March 1976.
On 13th June 1980 his mortal remains were transferred from Santa María de la Estrella, in San Asensio, Logroño, to the chapel of Colegio La Salle-Montemolín, where they were buried.
05/03/1988: Beginning of the Diocesan Process in the Diocese of Zaragoza:
Brother Adolfo is a Servant of God
15/12/1990: Closing of the diocesan Process
27/07/1999: Presentation of the Positio to the Congregation for the Causes of Saints in Rome.
11/12/2014: Theological Congress "super vita, virtutibus et fama sanctitatis".
15/12/2015: Plenary of Cardinals and Bishops
17/12/2015: Decree on the heroicity of virtues:
Brother Adolfo is Venerable