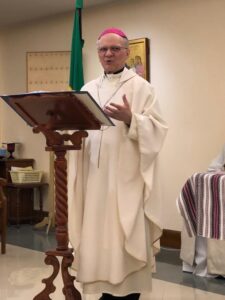 On April 7, Monsignor Angelo Vincenzo Zani, Archbishop and Secretary General of the Congregation for Catholic Education, came to the Generalate in Rome to preside at the Eucharist on the occasion of the 70th anniversary of the OIEC (International Catholic Education Office).
He greeted and talked with Brother Robert Schieler, Superior General, on the current educational problems and the need for a pact that would make possible a profound educational transformation to respond adequately to the new challenges and needs of today's children and young people.
During the Eucharistic celebration, given that it was also the anniversary of the death of our Founder, he highlighted the important role of De La Salle in education, transforming lives and contexts.
We reproduce below some of his words during the homily.
Appointment of Brother Juan Antonio Ojeda as Vatican Consultant
It is great news for the Institute to announce that Pope Francis through the Vatican Secretariat of State has renewed Brother Juan Antonio Ojeda of the District Arlep as Consultor to the Vatican Congregation for Catholic Education. This ministry of Brother Juan Antonio is a further demonstration of the confidence that the Church has in the Institute of the Brothers of the Christian Schools to accompany the processes of Catholic education in the different international organisations in which we participate.