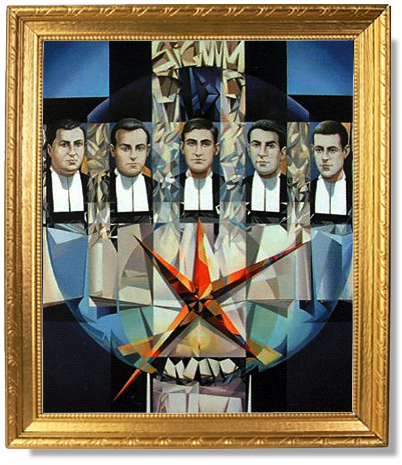 CAUSA Leonardus Olivera Buera…et SOCII
The Cause includes 30 Martyrs:  Leonardus Olivera Buera (priest), 5 Brothers of the Christian Schools and 24 Carmelite Sisters of Vedruma.
The Brothers are:
1. Hno. Ambrosio León (Pedro Lorente Vicente) 22 years old
2. Hno. Bertrán Francisco (Francisco Lahoz Moliner) 24 years old 
3. Hno. Elias Julián (Julián Torrijo Sánchez) 36 years old         
4. Hno. Florencio Martín (Alvaro lbáñez Lázaro) 23 years old 
5. Hno. Honorato Andrés (Andrés Zarraquino Herrero) 28 years old 
The first three were part of the community at the Colegio La Salle-Bonanova in Barcelona. Like all the others, on 19 July 1936 they had to flee the school and find refuge wherever they could. They wandered around the city for a few days and finally decided to return to their village of origin, Aragon; but to do so they had to cross Valencia. When they arrived in the city they realised that it was impossible to cross it. Brother Honorato was welcomed into the home of the Adelantado family and later, despite the danger, the other two. But on 22nd October, at 1.30am, a group of militiamen arrived at their home, arrested them and took them to the Cheka of the Seminary. They were murdered the same day in Benimaclet, a village near Valencia.
The other two belonged to the formation house in Cambrils (Barcelona) and were murdered in Paterna (Valencia) on 22 November of the same year.
Iter of the Cause:
28/03/1956: Beginning of the Diocesan Process super martyrio
05/10/1990: Roma, Rapporteur: P. Ambrogio Eszer, O.P.
22/02/1992: presentation of the Positio
02/12/1998: Congress of the Theologians
09/11/1999: Plenary of Cardinals and Bishops
20/12/1999: Decree super martyrio

11/03/2001: Beatification (together with others for a total of 228 martyrs) – H.H. John Paul II

Liturgical memorial: November 6
---